Reading time:
2
minute
What does the project present?
The montage is addressed to those who are willing to learn or practice the Morse code. The vintage DIY electronic kit is an audio frequency generator consisting of two transistors, a resistor and a capacitor.
How does the assembly work?
By intermittently feeding the assembly with the help of a "manipulator" type switch, sounds of longer or shorter duration are obtained. The long sounds correspond to the lines in the Morse code, and the short sounds to the dots.
The oscillation frequency of the assembly is performed by the RC group. The two transistors make up an amplifier, in the collector of the transistor T2, being connected the load and the speaker. The scheme is an amplification stage in oscillation mode. Capacitor C performs the reaction between the output and input of the amplifier.
Mounting characteristics
Supply voltage: between 3 - 12V (batteries or continuous power supply)
Speaker impedance: 4 - 8 Ohm
Speaker power: min. 0.5W
List of required components (with recent equivalents)
T1 - transistor - AC180, EFT 323 or BC557
T2 - transistor - AC181, EFT 373 or 2N2222 / BC546 / BC547
C - capacitor - 10nF (min. 60V)
R - resistor - 100 KOhm (min. 0.25W)
printed wiring or breadboard test board
tin or connecting threads
Download the original IPRS leaflet Baneasa 8102
For a better understanding of the operation of the circuit we will need electronic scheme presented below: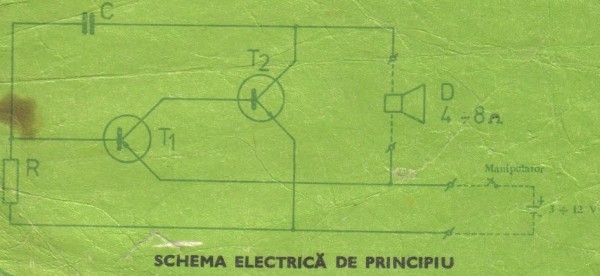 In order to carry out this project in our own laboratory, we will also need printed wiring PCB layout From lower: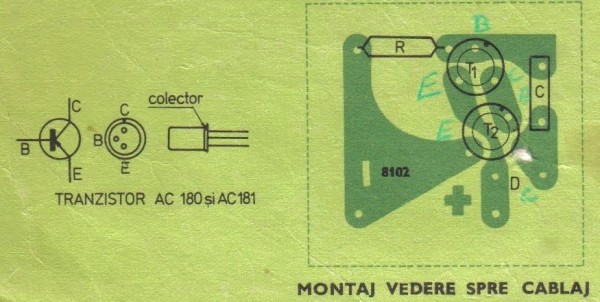 You can also see what it looks like below original variant made on printed wiring: