Reading time:
<1
minut
Where and why are static relays used?
Static relays are used to control (switch) without risk the consumers of AC power supply to the 230Vac network, in dangerous environments (with danger of explosion, for example, due to the electric arc produced by the mechanical contacts), static relays are used.
The order is made at low currents, but also has the disadvantage of high power consumption that mechanical contacts do not have.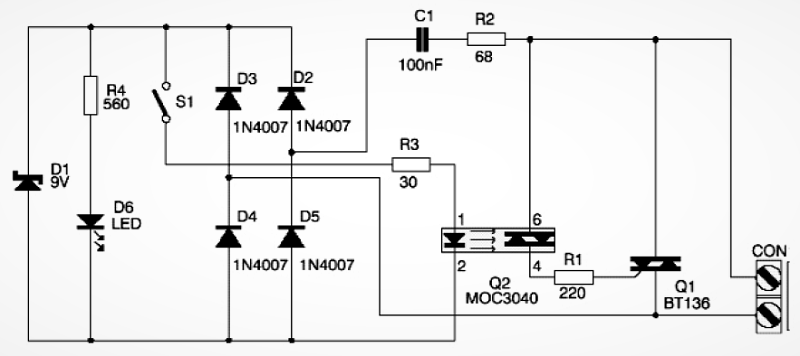 How does the electronic scheme work?
For control, the mains voltage (via R2-C1) is rectified with the 4 diodes D2-D5: the obtained voltage (signaled by D6), stabilized at 9V (with D1) controls the optotriac LED when pressing switch S1.
The advantage: the S1 switch has a much smaller size than if the order had been made classic. The optocoupler in the optocoupler controls the power triac grid, Q1, which feeds the consumer (when S1 is pressed).
List of required components (with equivalents)
R1 = 220 Ohms;
R2 = 68 Ohms;
R3 = 30 Ohms;
R4 = 560 Ohms;
C1 = 100 nF (polyester capacitor, working voltage of at least 275Vac);
D1 = Zener diode 9V
D2 - D5 = 1N4007;
Q1 = BT136 (or BTA08-600B);
Q2 = MOC3040 (or MOC3041);
S1 = normal switch;
1 x terminal contact (for AC power supply);
Bibliography:
Conex Club Magazine - no.7-8 - 2006
Electronic Practice: Electus Distribution
https://www.findchips.com/
https://components101.com/
5,307 total hits, 1 hits today