Reading time:
3
minute
Inductive charging it is a technology that has promised and still promises a lot, the technology behind it being surprisingly simple.
In the last decade, smartphones have become one of the most popular and useful gadgets. Because battery technology has not significantly improved compared to smartphones (the electronic part), they must be loaded more often.
The DIY project presented is a good quality 10 watt fast wireless charger that can easily charge a battery of 3000mAh in about 2 hours.
Steps required to build the wireless charger
1. Watch the following video
A video is a fairly important tool that provides a deep perspective on the work procedure and makes it easy to watch.
However, it is recommended that you take a look at the next steps for details and additional images.
2. Order the necessary parts and tools
a) Wireless Charger PCBA
Below are some options that can be purchased from Amazon, eBay or AliExpress.
ASHATA Qi Wireless Circuit Board Coil DIY 3 Coils Transmitter Module Wireless Charging Module 5V 2A for Phone (€20);
Street27 10W DIY Qi Wireless Charger PCBA Circuit Board Module + 2 Coils (11 Euro €);
Generic 5V 2A Micro USB Standard Wireless Phone Charger PCB Circuit Board DIY Charging for Mobile Phone (€ 14.5);
High Quality Standard 10W Qi Fast Wireless Charger Transmitter Module PCBA Circuit Board + Coil DIY Charging (5.5 €).
b) Heat shrink tubing
c) Soldering iron stand (letcon holder)
d) 60W letcon with adjustable temperature
e) Cutter knife with retractable blade
f) Cardboard box
g) Glue
The wireless receiver variants shown below can be purchased from Amazon, eBay or AliExpress.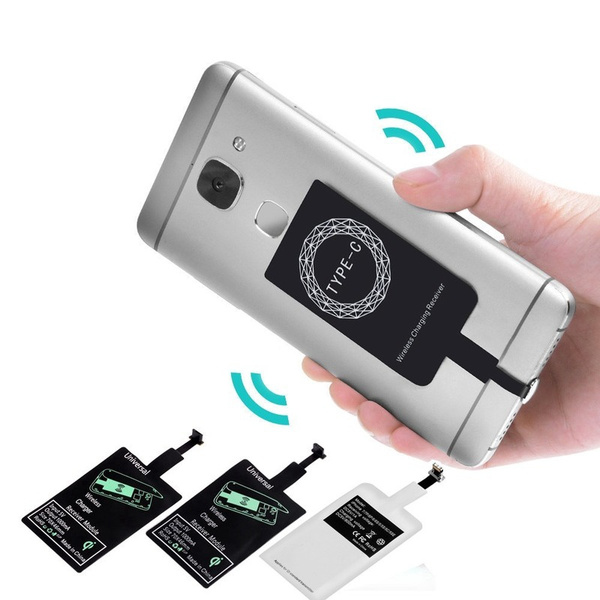 h) iPhone Charging Receiver Pad (iPhone 10w wireless receiver); Apple iPhones are designed to charge at a maximum power of 7.5W.
ASAKUKI Wireless Charging Receiver, Ultra-Thin Copper Coil Patch With Overvoltage Protection For Qi Wireless Charging Pads - Smart & Fast Microchip Technology For Apple Smartphone Devices (€ 7);
Qi Receiver for iPhone 5 / 5c / SE / 6/6 Plus / 7/7 Plus / iPad / iPhone QI Wireless Receiver / Charging Receiver / iPhone Wireless Charging Receiver / IQ Wireless Charging Adapter (€ 12);
i) Android Charging Receiver Pad (Android 10w wireless receiver)
10W Wireless Receiver Suitable for Type-C Mobile Phone Receiver Patch 2A Fast Charge Receiver (€ 20);
2000 mAh QI Receiver Type C for Samsung A72 A71 A70 A60 A52 A51 A50 A42 A41 A40 A30 A20 A12 A11 A10e - Wireless Charging Receiver Type C - Samsung Galaxy Type C QI Adapter - QI Receiver USB C (20 €);
Olixar USB C Wireless Adapter - Ultra Thin Qi Charging Receiver - Universal Fit Compatible with USB-C Smartphones and Devices - Case Friendly - Easy to Use 5W (27 €)
3. Principle of operation
A wireless charger basically works on the principle of "electromagnetic induction". When current passes through the coils, a "magnetic field" is generated.
Similar coils of the charging receiver are located under the back cover of the smartphone, especially on high end phones.
When the mobile phone is placed above the wireless charger, the induced magnetic field produces electric current in the receiver coil / coils, which is then transferred and controlled by the charging circuit in the phone.
The phone's charging circuit provides optimal controlled power to properly charge the battery.
Wireless charging has an efficiency of about 70% compared to direct charging of the cable connection, but offers a lot of comfort and ease of use.
4. What are the standards for wireless charging?
For a device to be able to charge wirelessly, it it must support the same standard as the loading platform. There are several standards for wireless charging on the market, among which the most important are:
Qi (developed by Wireless Power Consortium)
The most popular and most distributed standard to date provides a transfer maximum 30 W, at a distance between 5 and 40 millimeters.
Qi is the universal standard for wireless charging, which allows electronic products and chargers to be compatible with each other. In other words, electronic devices that meet this standard and are Qi compatible, even if they come from different companies, will be able to be powered from any Qi charging station.
PMA and Rezence (owned by the Power Matters Alliance and the Alliance for Wireless Power)
These are two standards that have recently merged. With this type of standard, several devices can be powered from the same charger. Delivers up to 50 W at 5 centimeters, and a Bluetooth Smart connection is used to transfer power between the device and the charger.
Bibliography: