Reading time:
2
minute
What does the project present?
The DIY project in the article presents the scheme of a simple intercom made with LM386 integrated circuit. The two 8-ohm speakers are used as microphones at the same time.
The LM386 is used as a power amplifier for 8-ohm speakers. The 10K potentiometer is used for volume control, and the gain gain can be adjusted from the 5K semi-adjustable.
Your DPDT switch (double pole, double throw) the two positions "listener" and "listened" are reversed, thus achieving bidirectional communication.
How do DPDT switches work?
DPDT switches have six connectors, two inputs and four outputs that allow you to connect or disable switching circuits A and B together.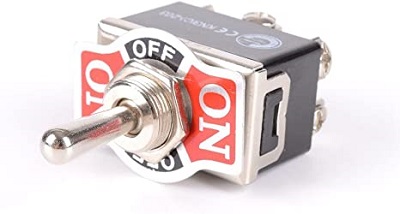 Electronic intercom diagram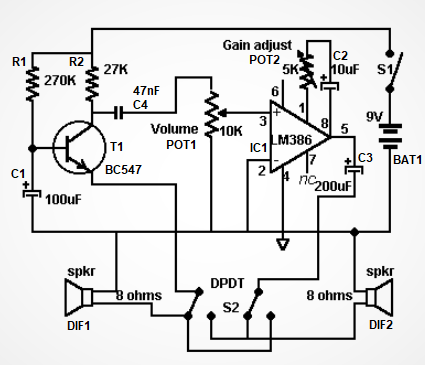 List of required components
R1 = 270K
R2 = 27K
C1 = 100 uF
C2 = 10 uF
C3 = 200 uF
C4 = 47 nF
POT1 = 10K
POT2 = 5K
IC1 = LM386
S1 = single switch (normal ON / OFF)
S2 = DPDT switch
DIF1, DIF2 = 8 Ohm speakers
BAT1 = 9V battery + socket
Technical specifications of the LM386 integrated circuit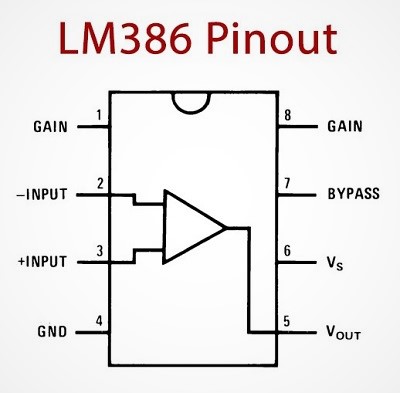 Battery operation;
Minimum external shares;
Wide supply voltage range: 4V – 12V or 5V – 18V;
Low quiescent current drain: 4 mA;
Voltage gains from 20 to 200;
Ground referenced input;
Self-centering output quiescent voltage;
Low distortion.
Bibliography:
https://www.electroschematics.com/
https://circuits-diy.com/
Dominte Claudiu (Romanian translation)