Reading time:
2
minute
What does the project present?
This vintage DIY electronic kit features a microphone preamplifier. The assembly ensures a uniform amplification in the 30Hz - 30kHz band of a signal received from a microphone. The scheme includes 2 BC 172B transistors, resistors and capacitors.
How does the assembly work?
The input impedance is high. The two floors amplify in voltage the audio-frequency signal provided by a microphone. The signal thus amplified can be applied to the input of an amplifier with an input signal of 100 mV.
The power supply of the scheme is made from a stabilized voltage source. To better understand how and what to use this adapter, we recommend reading the article here.
Technical characteristics of the assembly
Input signal amplitude: 2 mV
Output signal amplitude: 100 mV
Supply voltage: approx. 20 Vdc
Input impedance: approx. 50 KOhm
Output impedance: approx. 10 KOhm
List of required components (with recent equivalents):
T1, T2 - transistors BC 172B or BC 547C
C1 - 2.2uF capacitor (min. 25V)
C2 - 47uF capacitor (min. 10V)
C3 - 100uF capacitor (min. 6.3V)
C4 - 330pF capacitor (min. 25V)
C5, C6 - 4.7uF capacitors (min. 10V)
R1 - resistor 390 KOhm (min. 0.25W)
R2, R7 - resistors 220 KOhm (min. 0.25W)
R3 - 680 Ohm resistor (min. 0.25W)
R4 - resistor 39 KOhm (min. 0.25W)
R5 - resistor 10 KOhm (min. 0.25W)
R6 - resistor 1 KOhm (min. 0.25W)
printed wiring or breadboard test board
tin or connecting threads
Download the original IPRS leaflet Baneasa 8103
For a better understanding of the operation of the circuit we will need electronic scheme presented below: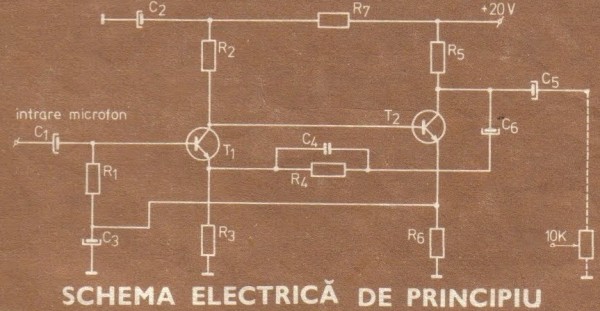 In order to carry out this project in our own laboratory, we will also need printed wiring PCB layout From lower: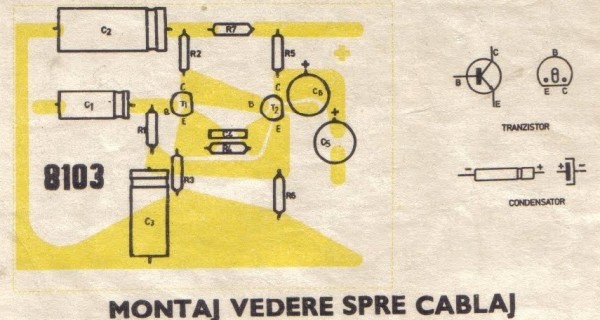 Many of you are probably wondering how this DIY electronic kit was packaged or distributed. Below I have attached a picture with packaged product (new). Thanks Mr. Marius Balauta!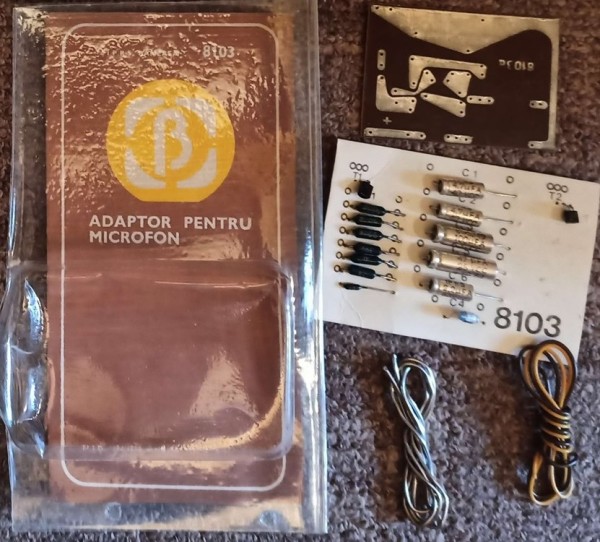 The image below shows the electronic kit in another variant, having the same prospectus number (8103).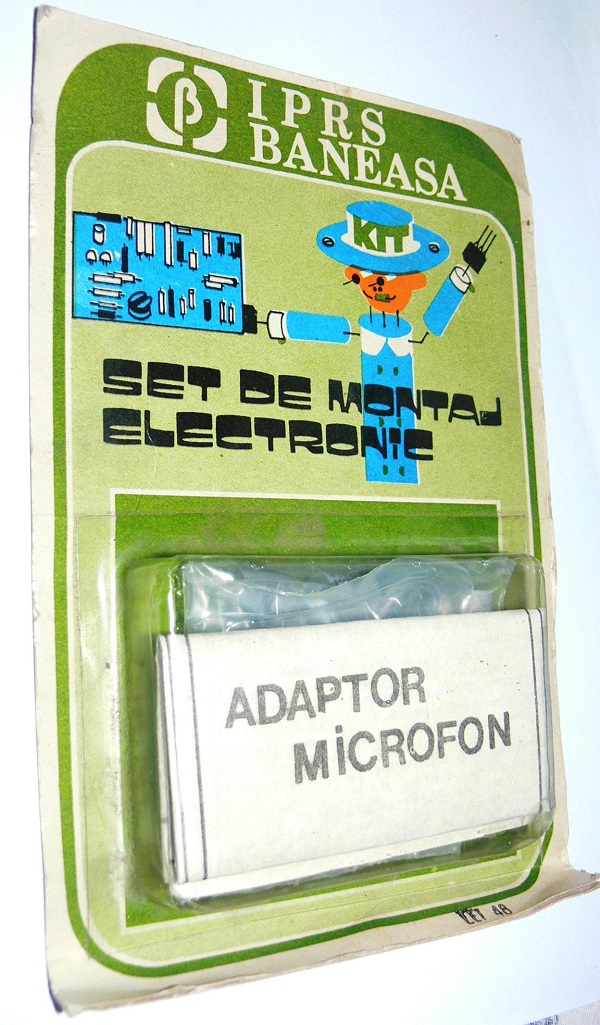 sources: