Reading time:
2
minute
What does the project present?
Remote control is a common procedure in many applications. Through audible signals, or mechanical shocks, this vintage DIY electronic kit can operate various electrical or electronic circuits.
How does the assembly work?
The scheme contains two amplification stages and a flip-flop. The amplification is made with transistors T1 and T2, and the bistable circuit is made of transistors T3 and T4; the latter can be switched from one state to another by amplifying the signal at only one input. The applied signal can be audible (clapping, whistling, etc.) or mechanical shocks.
The input signal is applied by means of a telephone headset to the amplification stage, from where by means of capacitors C5 and C6 and diodes D1 and D2 it acts simultaneously on both bases of the bistable circuit transistors (T3, T4). The transistor that was initially blocked goes into saturation, and the other one freezes.
If T4 is blocked, a current is injected at the base of the transistor T5 which saturates it; thus the bulb in its collector lights up.
The characteristics of the power supply and the telephone headset
Supply voltage: 9V (batteries or DC power sources)
Telephone headset impedance: 56 Ohm
Current absorbed from the source: 50 mA max.
List of required components (with recent equivalents):
T1, T2 - transistors BC 172 or BC 547C
T3, T4 - transistors (BC170 or BC337)
T5 - AC181K or 2N2222 / BC546 / BC547 transistor
D1, D2, D3 - rectifier diodes - 1N4001 or 1N4007
C1, C3 - capacitors - 10 nF (min. 10V)
C3, C4 - capacitors - 330 pF (min. 10V)
C5, C6 - capacitors - 47 nF (min. 10V)
R1, R4, R13, R14 - 2.2 MOhm resistors (min. 0.25W)
R2, R7 - 270 KOhm resistors (min. 0.25W)
R3, R5 - 3.3 KOhm resistors (min. 0.25W)
R6, R12 - 10 KOhm resistors (min. 0.25W)
R8, R9 - 150 KOhm resistors (min. 0.25W)
R10, R11 - 22 KOhm resistors (min. 0.25W)
R15 - 33 KOhm resistor (min. 0.25W)
R16 - 33 Ohm resistor (min. 0.5W)
Telephone headset: impedance 56 Ohm
printed wiring or breadboard test board
tin or connecting threads
Download the original IPRS leaflet Baneasa 8107
For a better understanding of the operation of the circuit we will need electronic scheme presented below: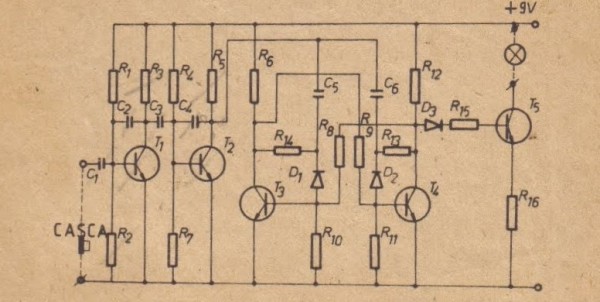 In order to carry out this project in our own laboratory, we will also need printed wiring PCB layout From lower: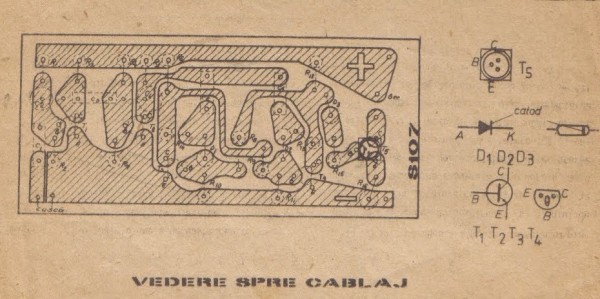 sources: